Find out about the #YellowNailsMovement here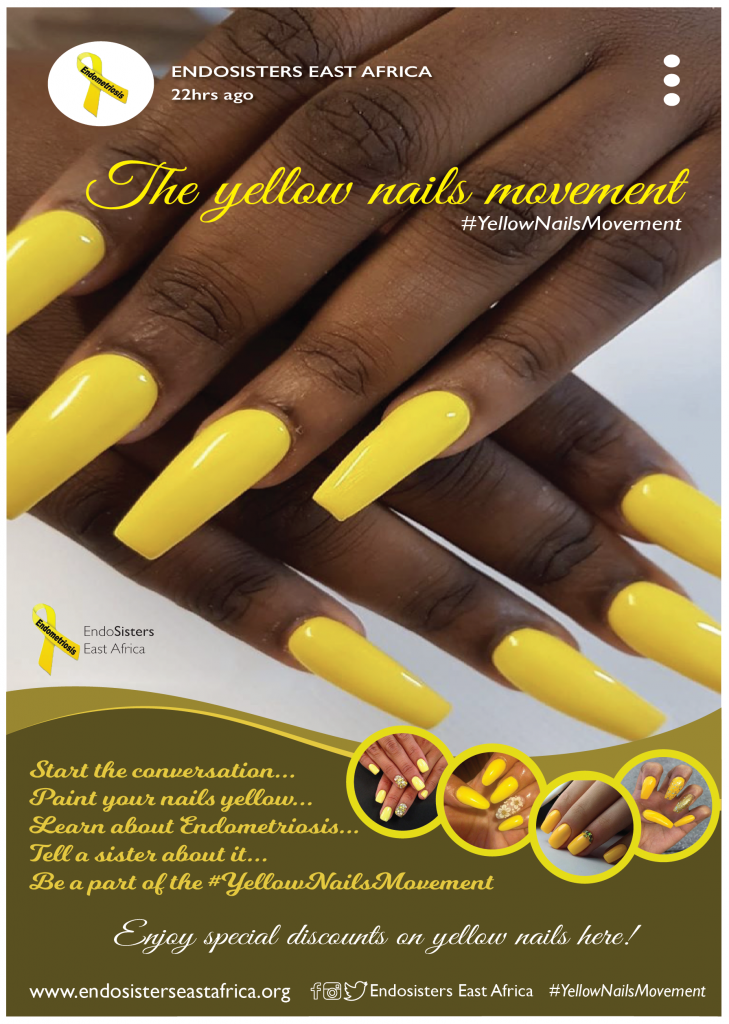 In March 2019, EndoSisters East Africa Foundation, launched the yellow nails movement and used selected hair salons and nail bars to disseminate information and to 'start the conversation' on endometriosis in Nairobi, Mombasa, Kisumu, Nakuru and Thika within Kenya.
The Yellow Nails Movement is a campaign aimed at sensitization and driving participation for endometriosis awareness creation. The movement aims to create a visual identifier for endometriosis through yellow nails in addition to the commonly known yellow ribbons given that yellow is the global endo colour. The call to action is 'paint nails yellow' and upload the said yellow nails photos on social media using #YellowNailsMovement. The target audience of this campaign are women and adolescents of child bearing age who can either be accessed through salons, nail bars, schools, colleges or through social media. Men and Boys can also participate by tagging friends and posting on endometriosis awareness, with the hashtag #YellowNailsMovement.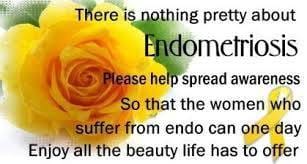 Men and Boys can also participate by tagging friends and posting on endometriosis awareness, with the hashtag #YellowNailsMovement.
The #YellowNailsMovement campaign was supported by the launch slogan, 'start the conversation' that aims to create a visual identifier for endometriosis in East Africa through yellow nails and yellow ribbons.
This year, as a reflection of the program work that we are engaged in, our thematic message is 'Be informed, take action!' Click here for our Yellow Nails #EndoKit resources.
In a web article from Endometriosis Foundation of America, Dr. Piraye Yurtas Beim, founder and CEO of next-generation women's health company Celmatix, USA stated that:
…"Based on current trends, every five seconds a baby girl is born who will grow up to develop endometriosis. There is therefore a pressing need to get more information and resources about this devastating condition and other menstrual disorders into the hands of women earlier in their lives".
Click here for more testimonials.
We urge everyone to join us in supporting these efforts by either engaging us to train you at your school, college, youth group, workplace, social group or make a donation in support of this work.
We envision a landscape in the near future where March will be a month that will be characterised by yellow nail painting/application and numerous other conversations around endometriosis. In addition to the yellow ribbon (globally recognised identifier), the benefit of the yellow nails as an identifier is that it 'starts the conversation" and gets people engaged on the issue of endometriosis. It is our hope and prayer that the #YellowNailsMovement:
a. Will get women and particularly adolescent girls to seek out more information and early diagnosis.
b. Will cause Endometriosis and other menstrual disorders to be recognised and included in the national reproductive agenda and Education Curriculum in Kenya, neighbouring East African countries, and globally.
c. Will help create a framework where accessibility to treatment in terms of subsidized costs and locations will be enhanced.
d. Will help in the management of endometriosis particularly in terms of slowing endometriosis progression and infertility diagnosis.
e. Will extend as a recognised endometriosis awareness identifier throughout Africa and globally.
In conclusion, we at Endosisters East Africa Foundation envision a future, where yellow nails will psychologically be associated with endometriosis awareness globally.
How to get involved in the #YellowNailsMovement.